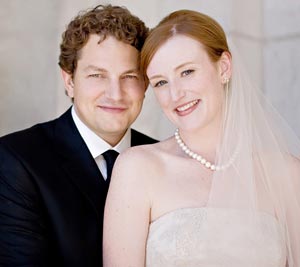 In lieu of traditional wedding presents, Matt and Maggie Franke, invited guests to their wedding last year to donate to one of two charitable organizations. More than 50 of their wedding guests participated in the alternative wedding registry by donating to the Working Boys' Center and Cristo Rey. (Submitted photo courtesy Matt and Maggie Franke)Everything from toasters to monogrammed towels appear on wedding registries, but for Matt and Maggie Franke, their most desired wedding gift could not be purchased at Macy's. When planning their big day, the couple encouraged family and friends to donate to non-profit organizations close to Matt and Maggie's hearts: the Working Boys' Center in Quito, Ecuador, and Cristo Rey in Chicago. Matt and Maggie said they wanted to begin their marriage by sharing their joy and blessings with the less fortunate.
Matt and Maggie's relationship blossomed in 2003 when the two met in law school. Both attended University of Minnesota-Twin Cities and were friends for five years before dating. With Matt traveling around the world for his job, the couple's relationship was long distance. For a year and a half, Matt and Maggie stayed connected through phone calls, e-mails and letters until September 2009, when they became engaged while vacationing in Belfast, Ireland.
For Matt and Maggie, volunteer work is a priority. Prior to college, Matt volunteered at Jesuit-run Cristo Rey in Chicago where he helped those in low income neighborhoods find jobs. Maggie traveled to Quito to volunteer at the Working Boys Center where she taught English classes and worked in a bakery, teaching business and marketing skills. Both said they found their experiences to be life-changing and fulfilling. Because of their time spent helping others, they wanted to further show their love and support by giving back to the organizations. 
As the August 27, 2010 wedding day grew closer, Matt and Maggie decided that material presents were not a priority. They both had accumulated the necessary items to create a life together and knew that another toaster was not what they wanted. Instead, they wanted to share their joy and blessings with the organizations that helped form them and welcomed them into a broader Catholic and human community.
"After our years of service and being surrounded by caring people, it just seemed like a fitting thing to do," Maggie said in an interview with your Catholic Herald.
Their decision was also one of practicality. Due to Matt's job with the government as a foreign service officer, they will be moving every two years. More than 50 of their wedding guests honored Matt and Maggie's wishes and gave donations to the alternate wedding registry as part of their gift. Others stayed traditional and brought presents. The Working Boys' Center and Cristo Rey were appreciative of the donations made to them in honor of Matt and Maggie, she said.
The Working Boys' Center has close ties to Milwaukee as hundreds of area volunteers have donated time and talent to it. Marquette University High School and Divine Savior Holy Angels High School, both in Milwaukee, send students yearly to volunteer and interact with the children of Quito.
Begun some 44 years ago by Jesuit Fr. John Halligan, who was sent as a missionary to Ecuador to help the poor of Quito, the center started as a small project and has developed into a thriving company organization. With the help of Sister of the Blessed Virgin Mary Miguel Conway, the sister of Elm Grove resident, Patricia Parks, he created the Working Boys' Center, which provides food, clothing and medical care to impoverished Ecuadorian families, all while teaching them work skills.
The Working Boys' Center believes in helping the family improve their way of living not just by providing for them, but by teaching them how to provide for themselves. As a main fundraiser for the center, Parks is the stateside link to the Working Boys' Center. A member of St. Mary Parish, Elm Grove, Parks is the president and founder of Family Unity International which provides funding and volunteers for the Working Boys' Center.
Volunteers come to the center from around the world. Some, like Maggie, spend a year or two after college working at the center.
Being able to help the center as they celebrated their marriage was special, said Maggie in an interview in the Shoeshine Special, e-newsletter of the Working Boys' Center.
"The impact of the Working Boys' Center experience grows overtime," said Maggie. "My experience with Madre Miguel, Padre Juan and the families has kept me grounded and focused on the life Matt and I want to live."
They stressed that they never missed the traditional wedding gifts.
"The gifts (to the Working Boys' Center) are all the more meaningful because it is about sharing your life with others," said Maggie in the e-newsletter article.
They expect that by building their marriage on a solid foundation of sharing and compassion they expect that as the years go on, that foundation will continue to bring them closer as a couple and closer to God.