A devastating crash in 1993 shattered more than newlyweds Kim and Krickitt Carpenter's car. It shattered Krickitt's memories of her husband. Every moment was gone – from how they met in 1992, to when they got married Sept. 18, 1993, and everything in between. The ring on Krickitt's finger was the only thing left of the vow she made to Kim 10 weeks earlier. It was also what kept them together.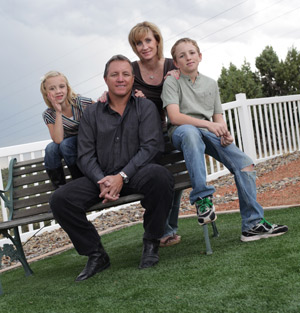 Kim and Krickitt Carpenter's love story is the basis for the movie, "The Vow" and the book by the same name. The couple, pictured with their two children, LeeAnn, 8, and Danny, 11, — and pictured on the front cover of this section – leaned on their faith as they recuperated from a 1993 car accident which cost Krickitt her memory. (Submitted photos courtesy B&H Publishing)The Carpenters' story inspired the movie, "The Vow," starring Rachel McAdams and Channing Tatum, which hit theaters Feb. 10, but their true story was initially published in a 2000 book, "The Vow: The Kim and Krickitt Carpenter Story," and reissued Feb. 10 as "The Vow: The True Events that Inspired the Movie," with an additional chapter and a 16-page photo insert.
"It's the Lord's work and it's been really neat to see how the Lord has worked through this entire process," Kim, 46, told your Catholic Herald in a Feb. 14 telephone interview.
The Carpenters, evangelical Christians who live in Farmington, N.M., with their children, Danny, 11, and LeeAnn, 8, are "very happy" with the way the film was made, though Kim said fitting 19 years of life into 104 minutes of movie is tough.
"One of the most important parts of it is that the movie and the closure of the movie will definitely inspire people to want to learn more about who we are and the same that goes for the book, when people read the book that haven't seen the movie, people can become really inspired on the basis of our experience and making a movie and star power that's involved and want to see the movie…" Kim said.
On Nov. 24, 1993, the day before Thanksgiving, Kim and Krickitt were driving to Phoenix, Ariz., to spend their first Thanksgiving together with Krickitt's parents. About six miles west of Gallup, N.M., they got into an accident that would change their lives.
"A horrible, horrible car accident that was much more violent than that depicted in the movie, but it was a devastating, devastating car accident that was just horrible," said Kim, who suffered a damaged lung, broken hand, bruised heart, concussion and lacerations requiring surgery.
Krickitt, 42, who wasn't initially expected to survive, needed extensive physical therapy after suffering physical, cognitive and emotional setbacks, and spent two months in the hospital, followed by three and a half months of outpatient therapy. The retrodgrade and post traumatic amnesia, usually caused by a traumatic injury in the brain's limbic system, the seat of a person's emotions and memories, is what erased her memories of Kim.
The couple never separated, though Krickitt and Kim lived in separate cities while Krickitt recooperated in outpatient therapy at her parents' house.
"One (reason was) Krickitt's parents really felt that I needed to get on with my life and get some sense of normalcy. We agreed that that would probably be the best thing, but at the same time, every opportunity I had I would slide back and help her rehabilitate," said Kim, who flew from their Las Vegas apartment to Phoenix on the days he wasn't coaching baseball. When they met, Kim was serving as head baseball coach, one of the youngest in the country, at New Mexico Highlands University.
Most painful for Kim were the hellos and goodbyes he said to a wife who felt nothing for him.
"It came without feeling from Krickitt, where I tried to hang onto a woman that I solely, dearly loved, but the feelings from Krickitt were – they were empty, they were void, it was hollow," said Kim, noting that fear of the unknown was overwhelming. "There wasn't true passion there and so it used to break my heart every time…."
Kim said there were times he wasn't sure the marriage would work.
"There were times I had doubts, but my main focus upon that time was just getting her to where I could help her rehab and get back on her feet to where she was stable enough to be able to lead a quality of life by herself, but also confident enough to look me in the face and tell me it wasn't going to work," said Kim of Krickitt, a two-time Academic All-American gymnast who was selling sports apparel for Jammin Sportswear in California when they met. "And so that was my goal throughout a lot of it and little by little, the Lord just really created so much opportunity and so much recovery that we hung in there."
Kim's pain was laced with the hope that his wife's memory would return.
Kim and Krickitt Carpenter married Sept. 18, 1993, but 10 weeks later, on Nov. 24, their marriage was tested by a severe car accident. The damaged car is pictured above. Krickitt wasn't initially expected to survive, but she pulled through. She was left, however, without a memory of her marriage or Kim. The movie, "The Vow," was inspired by the story of their love in spite of the test to their marriage. (Submitted photos courtesy B&H Publishing)
"Obviously there was always hope that there would be some sort of a resolution, but we just we couldn't count on it and obviously with time it became very apparent that she wasn't going to get her memory back," he said.
For Krickitt, realizing the memories were gone was helpful in her recovery, because then she understood why everything was so confusing. She fixed her eyes "above" and "looked forward," choosing not to dwell on what had happened and what was missing, she said.
"I just figured this was the situation I was in and I had made a vow before God, in good times and bad, in sickness and health, and I was going to go forward with the promise that I had made, and I just went forward and we began building new memories and doing new things together because, for me, it doesn't help to look at the negative," Krickitt said. "I needed to focus on the positive. I mean, I had my husband still, I was alive, I had my – I have my health, I mean I could walk and I could perform things on my own, so a positive attitude was key."
Together, they recreated memories and found the love that brought them together in marriage in 1993, celebrating a rededication ceremony in May 1996.
"The biggest thing about our relationship is obviously our faith that is embedded," Kim said.
"That is really the central part of this whole story. Accompanied with that is my inlaws and Krickitt's inlaws, our parents together, have combined more than 100 anniversaries that they have celebrated – very devoted to each other without any question, have a great relationship – and that in itself is a great example of the importance of commitment."
The adversity the Carpenters faced years ago is a "real blessing," that reaches beyond the books published and film's success, according to Kim.
"Yeah, to have a movie made is pretty cool," he said. "To have a book written is awesome, but to be able to have two kids that can witness it all, and that can see it from their first-hand experience, that they don't have to listen to mom and dad lecture them about doing the right thing and this is a memory that they will carry on in their own legacy in life, is priceless."
Society would have accepted them had they broken their vow, according to Kim, because "we live in a society today of broken promises" where "families are at their weakest in their foundations and the definition of 'until death do you part' today is the death of a marriage, and 40 years ago it was the death of a soulmate."
He also said that the books and movie are a platform for teaching everyone, as they have their own children, rather than lecturing them.
"It's a great opportunity for a parent and it's a great learning experience for a child," he said.
"And I think we need to lead by example," added Krickitt. "I mean, when you make a vow you keep it…. You need to stay true to your word and we need to teach that to our children, teach that to our students, teach that in all aspects of our life."
The Carpenters have walked the red carpet, met the actors and been on TV, but they're just like any other family – with their arguments and struggles – who have a story to share that they hope will inspire others.
"If this story can really gravitate toward inspiring lives and getting people on track and encouraging people to stay together and encouraging those who are about to become together to be able to realize the importance of their vows," Kim said, "and even teach people who are not married or who have nothing to do with the institution of marriage, that just need to learn to do the right thing, then that's the entire focus that we have, and that's where we really feel blessed that the Lord's using us for his glory."